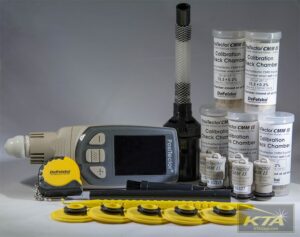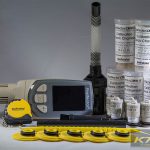 Positector CMM IS Pro Kit
$1,815.00
Description
Additional information
Reviews (0)
Description
Positector CMM IS Pro Kit
The Positector CMM IS Pro Kit is designed to be the all in one solution for in Situ testing.  The Pro kit features a Positector Advanced Body and DPM probe to make checking and logging data from the probes an easy task.
Contained in the CMM IS Pro Kit is:
Positector Advanced Body and DPM Probe
5 CMM IS Probes
5 Saturated Salt Solutions
5 Calibration Check Chambers
5 Caps
Extraction Tool
Tape Measure
10 A-76/LR-44 coin cell batteries.
Vacuum Tool Attachments
Hard Shell Carrying Case
The Positector CMM IS is designed to easily collect and report relative humidity in concrete floor slabs in conformance with ASTM F2170.  The reusable smart probes feature a Bluetooth connectivity allowing readings to be read directly on an Apple or Android smart device or a Positector Advanced gauge with a DPM probe.  This means that the cap to the hole does not need to be removed for readings with the probes being able to remain powered for up to 3 weeks in SITU.
The CMM IS does not use consumables on installation which simplifies the installation process.  The probe casing is solvent, acid, oil, water, and dust resistant allowing it to remain intact even after many uses.  The sensors have a cal check function which automatically determines whether a probe is reading within tolerance.  Th built in LED allows the user to easily confirm that the probe is powered on and broadcasting.
There are two different ways to report the data obtained from the Positector CMM IS.  The first way would be through the easy to use Positector App on an iOS or Android device.  This allows the relative humidity and temperature of all CMM IS probes within Bluetooth range to be displayed.  Blueprints, drawings, or images can also be added into the app allowing probe/hole locations to be overlaid.  The Positector App also allows for custom PDF reports to be generated with all the information required by ASTM F2170 with the option to add on-site images, screen captures, notes, and more.
The other reporting option is using a Positector advanced gauge with a DPM probe.  This allows for the relative humidity and temperature of all Positector CMM IS probes within Bluetooth range to be displayed directly on the Positector display.  When using the Advanced body with DPM probe to view readings the full memory capacity of the advanced body can be used allowing for 100,000 data sets in up to 1,000 batches to be stored.  Reports can be ran using the free PosiSoft suite of software.
---
Only logged in customers who have purchased this product may leave a review.