KTA Gage Instrument Sales Department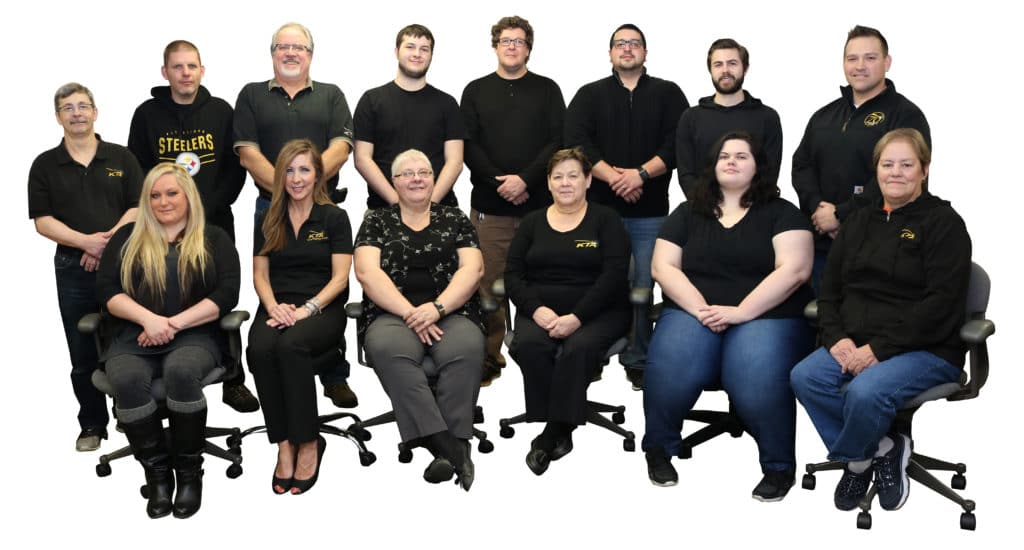 The KTA Instrument Sales staff has amassed over 100 years of combined experience helping customers select, purchase and use coatings inspection instruments, guides, and kits. Each has attended and successfully completed a KTA training session on the use of coatings inspection instruments and visual guides. Our staff is friendly and eager to help with technical questions, instrument selection and guidance on proper use. Technical guidance, in support of the Instrument Sales staff, is also provided by KTA Senior Coatings Consultants, Laboratory Chemists, Environmental, Health & Safety Professionals and other professional staff.
Please call us @ (412) 788-1300
Matthew Fajt – Vice President and is the Instrument Sales Business Unit Manager.  Matt is responsible for business development, expanding KTA's product offering's, representing KTA at industry specific trade shows, in addition to managing the day to day operations within the sales & service group. He is a NACE CIP Level 2, SSPC PCI Level 1 and has over 18 years in the paints and coatings industry. He holds an MBA from Duquesne University, and a B.S. in Business Management from Saint Vincent College. X 161 
Linda Tessore –  is one of our lead sales support representative's. Linda also handles all Steel test panel sales, cut and prepared to your specific needs!  If you have any questions, please let Linda help you with your product selections, she has been with KTA for over 25 years! Linda also manages the KTA instrument rental program.  x 164 
Bill Spangenberg –  is our inventory and vendor invoicing specialist.  Bill manages inventory levels, in addition to being the main contact for Vendor relations.  He also assists in packaging and shipping of products. X 166 
Toni Cain – is our invoicing and accounts receivable specialist.  If you have any question in regards to your bill, or tax related issues, please reach out to Toni. She has been with KTA for over 15 years. X 160 
Bonnie Novak – is one of our Instrument Service Department Manager. She handles the majority of our service and repair request's. She has been with KTA for over 14 years. X 165 
Ron Nail – is our lead Blast Technician.  Ron handles all aspects of test panel blasting, utilizing our large blast room for production work and the small glove-box for finer, special media mix request's.  Ron has been with KTA for 6 months.
Andrew Pappas – is a instrument customer service representative.  He is fairly new to KTA but comes to us with over 5 years of inside sales and customer service experience. x 363 
Dominic Pasquerelli – is a instrument customer service representative. He is fairly new to KTA but has a strong technical background varying electronic equipment. x 128
About KTA-Tator, Inc
KTA-Tator, Inc. (KTA) is an employee owned consulting engineering firm founded in 1949 specializing in protective coatings and linings.  Headquartered in Pittsburgh, Pennsylvania USA, KTA provides coating consulting services including coatings failure analysis; laboratory testing; expert witness services; corrosion surveys and coating system evaluations; technical specification and contract document development; environmental, health, and safety consulting services; contract administration; fabrication inspection (coatings, steel, and concrete); in-process Quality Assurance (QA) observation of field surface preparation and coating application operations; training; and standards maintenance. Our services are featured on www.kta.com.
The company was founded as Kenneth Tator Associates, a sole proprietorship and operated from the Tator residence in Moon Township (a suburb of Pittsburgh, Pennsylvania). The core of the business was based on the KTA Test Panel (still sold today), invented by Mr. Tator for the comparative evaluation of coating system performance. In 1962, KTA launched an inspection instrument sales division through the distribution of two types of coating thickness gages. Today, KTA is a leading distributor of a full line of coatings inspection instruments, visual guides, test kits, publications and test panels sold on-line or by contacting our sales staff by telephone, fax or email.