THE SALE HAS ENDED. THANK YOU FOR YOUR PARTICIPATION!
Scroll Down to Purchase The Deals & Learn About our BONUS Flash Sale Webinar!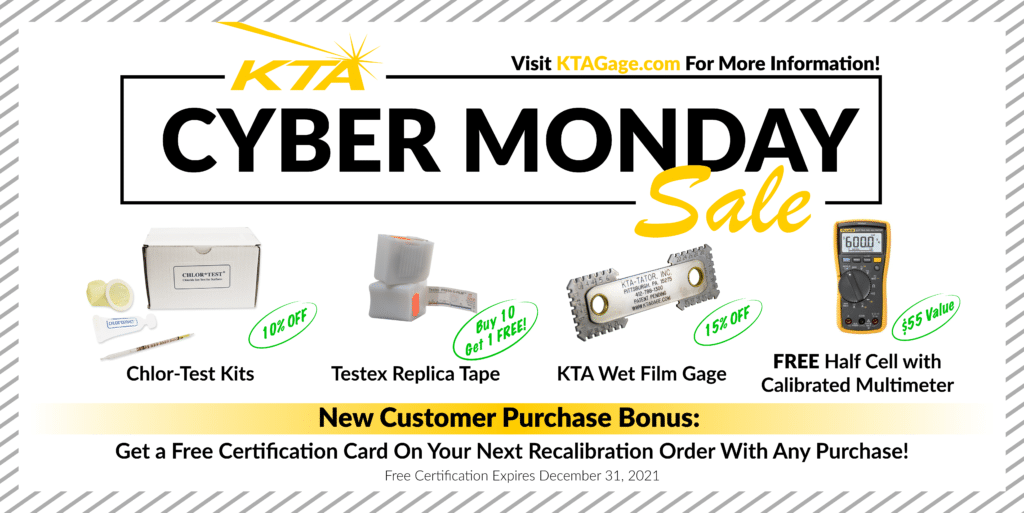 Free Shipping on Orders Over $150
Prefer to Order Over the Phone? Call one of our Customer Service Representatives at 1-800-582-4243
Testex replica tape is used in conjunction with an analog or digital spring-loaded micrometer for acquiring surface profile measurements according to Method C in ASTM D4417. The replica tape is rubbed onto the abrasive blast cleaned surface forming a reverse replica of the peak-valley pattern in the steel. The replica is quantified using a spring-loaded micrometer to determine the maximum peak-to-valley depth. Each roll of tape contains 50 pieces.
Coarse 0.8 to 2.5 / 20 to 64
X-Coarse 1.5 to 4.5 / 38 to 115
X-Coarse Plus 4.6 to 5.0 / 116 to 127
Don't forget to register for our 12th Day of Christmas Webinar. Host Bill Corbett will be doing live instrument demonstration, giving applicable field advice, and discussing proper application of standards. After each demonstration, a Flash Sale will appear in the Webinar for a discount on the product that Bill just discussed. You won't want to miss this BONUS WEBINAR! It's a great way to stock up for 2021!
Just Click on the Image Below to Register!