Elcometer 106 Compatible Blast Cleaned Dollies (20 Pack)
$45.00
20 mm dollies for use with Elcometer 106 adhesion testers.
In stock
Blast cleaned 20mm dollies for use with the Elcometer 106 adhesion testers.
You may also like…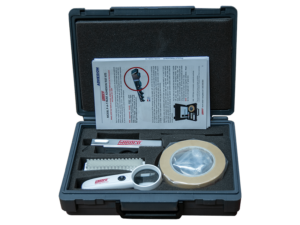 The Gardco Paint Adhesion Test Kit contains all of the equipment you will need to perform cross-cut adhesion testing according to Method B in ASTM D3359, "Measuring Adhesion By Tape Test."
Measure the adhesive and cohesive strength of coatings and coating systems in the laboratory, shop or field using this self-aligning hydraulic tensile adhesion testing kit. The PosiTest AT (adhesion tester) uses hydraulic pressure to apply perpendicular force and debond an aluminum pull stub from the coating surface.
Our various means to glue your adhesion testing dollies. We still distribute 20mm blast cleaned dollies for the Elcometer 106 series adhesion tester.
Add to cart
Purchase this product now and earn 1 points!